Information about Norefjell
Norefjell Ski & Spa
Norefjell Ski & Spa is an exciting ski and spa hotel set amid stunning mountains, approx. 1.5 hours by car from Oslo and Gardermoen Airport. Here we offer lots of leisure activities, and a large spa in a unique setting. Experience the diversity of nature in an environment that puts health and well-being in focus.

Spa and wellness
Our spa area is just what your body and soul need. We have many different treatments inspired by the pure Nordic nature. You can also visit our spa facility with ice showers, foot baths, different saunas and jacuzzis. We also have an outdoor spa with heated outdoor jacuzzis, where you can sit back and enjoy the mountain views.
For more information and spa menu please visit https://norefjellskiogspa.no/en/spa/
Activities for everyone
Norefjell offers lots of activities to choose from during each season. Our hotel is located right on the ski slopes, so you can put your skis on at our front door, and after a day on the slopes you can ski right back to the door. Once back at the hotel, relax and enjoy a cup of hot chocolate or a delicious dinner. We have an indoor 16-meter-high climbing wall right inside our main entrance (do you dare climb right to the top?) spa area, swimming pool and gym. In 2015 the hotel was ISO certified: ISO14001
There are a total of 244 double rooms and suites, and they are decorated in the same elegant manner as our common spaces. Cozy décor combines with modern facilities for maximum comfort, with beautiful wooden floors welcoming both bare feet and heavy mountain boots. Our aim is to create harmony between the surrounding landscape, the resort, and all rooms, where exciting design reflects the delights of the mountain. The hotel offers self-catering apartments just below the hotel. In the Village there are a total of 161 apartments. As a guest in our apartments, you're free to make the most of the resort's activities, restaurant, bar, swimming pool, sauna, gym, after-ski and more.
Our accommandation
Executive Suite: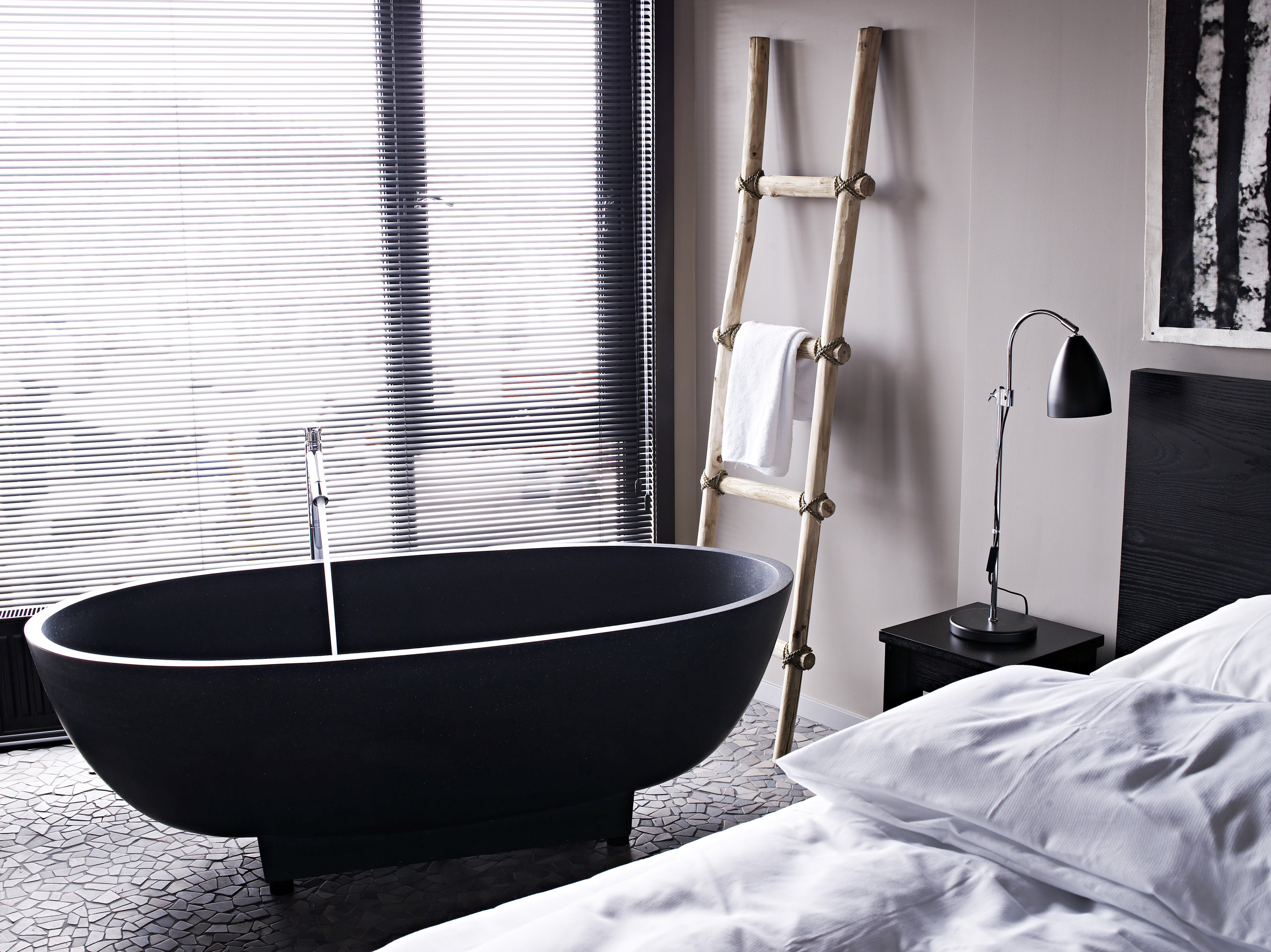 Charming suite inside the hotel with two bedrooms, kitchen, and living room. One bedroom consists of a double bed and a free-standing bath, while the other has a bunk bed and is perfect for children. The living room has an open kitchen. The suite can also be booked as connecting to an extra double room.
Double room/twin room:
Cozy standard double room with double bed, desk and bathroom with shower. Some rooms have mountain views. There is no space for an extra bed in a double room.   
Villa Mini Suite/Self catering – 4 beds:
Great self catering apartments with four beds are located in villas below the hotel building. The suites are 35 sqm and contain two bedrooms, a living room and an open kitchen. One bedroom has a double bed and the other has a bunk bed. When you live in the villa you have everything you need to feel at home. In these apartments pets are not allowed.
Villa Suite/Self catering – 6-8 beds:
The apartments are on a total of 70 sqm, very spacious and charming three bedroom suite in addition to the living room and open plan kitchen. The suite also has washer and dryer, as well as a private storage room outside the front door. One bedroom consists of a double bed, while the other two have a family bunk bed. In the apartment you have everything you need to feel at home.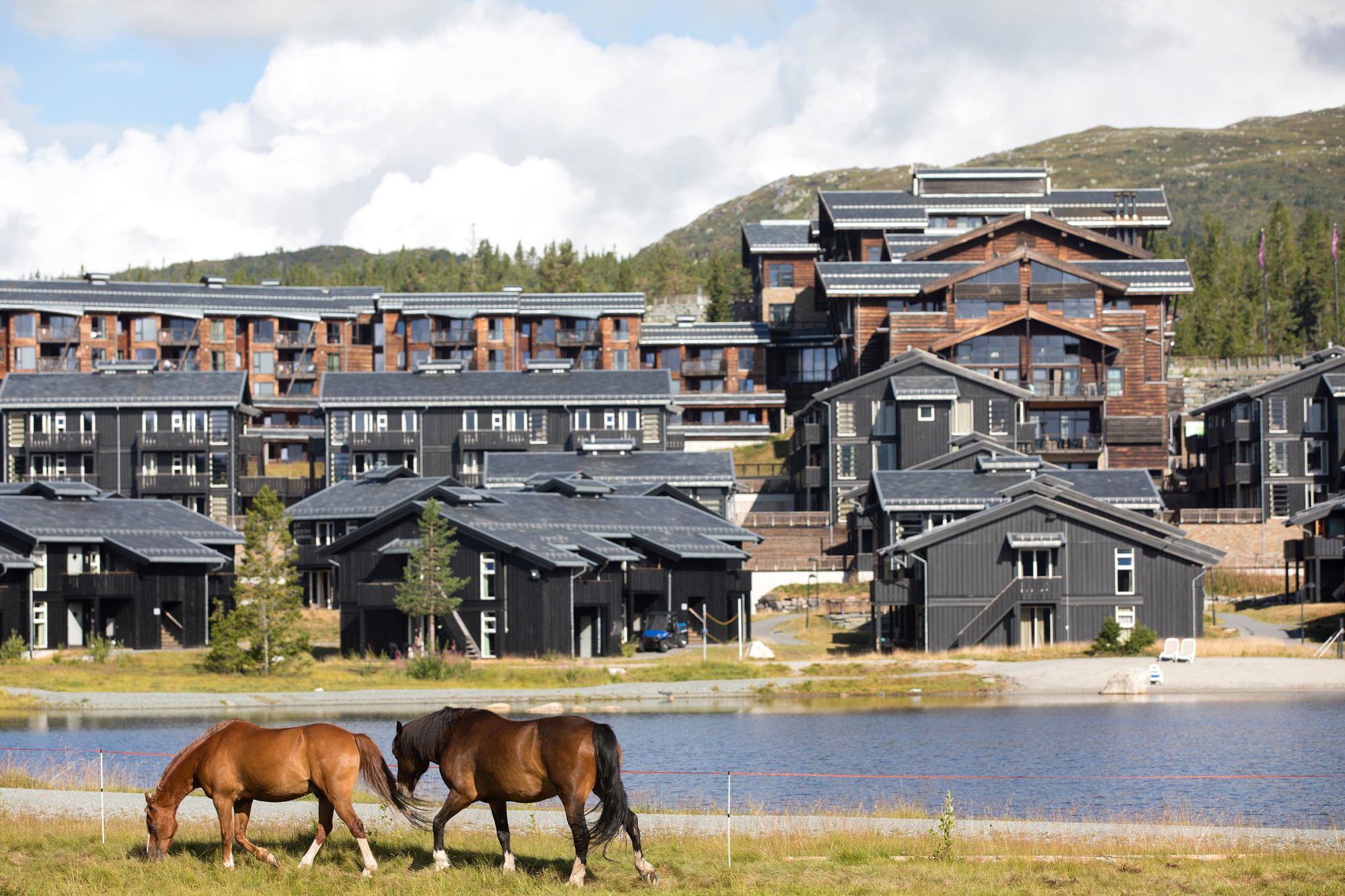 Opening hours
https://norefjellskiogspa.no/en/opening-hours-2/
Opening hours is for the period that we are in.
Food and Beverage
WE WELCOME YOU TO A DELICIOUS MEAL
Breakfast – you can enjoy a delicious breakfast buffet in Restaurant 815.
Matbaren – is our newest concept in Food & Beverage. We have created a more spacious venue and expanded the menu significantly.
Restaurant 815 – are the main restaurant in the hotel, located on the 4th floor (same as the reception). If the guest has booked half board through you, the booking for dinner will be made by us, and the guest will get information about time for seating at arrival. Some days the restaurant is closed, and then they will eat in Matbaren instead.
Lobby Bar  – is located in the reception.
Spa Bar – is located in the wellness spa on the 7th floor.
Norefjellstua and Mountain Lodge
If you use City Break as a booking channel, you also get access to book both Norefjellstua and Mountain Lodge. These places are only available for online booking. If you don't have access or rates, please let Ann-Karin – your contact person at Norefjell know.
Norefjellstua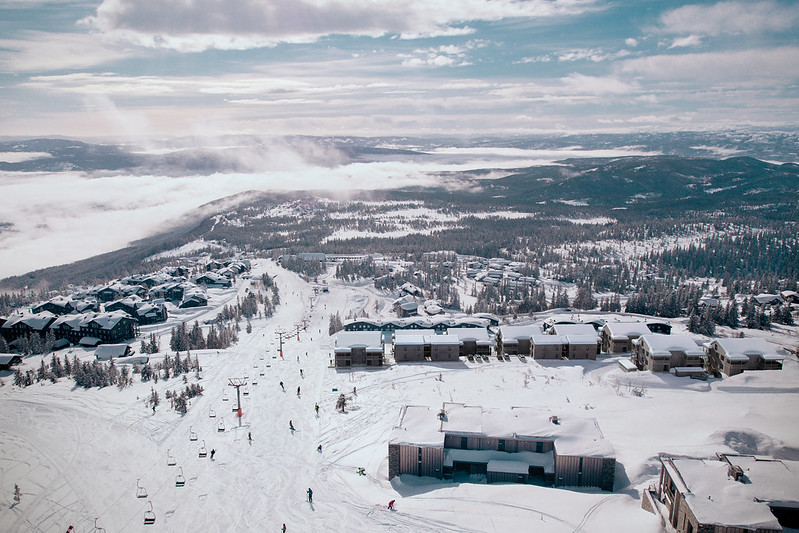 Welcome to Norefjell's most spectacular and maybe one of Norway's best locations with ski in/ski out.
Experience brand new and modern apartments with a high standard that is tailored for a great ski vacation. The apartments are located right next to the ski slopes and makes it easy to enjoy skiing during the daytime. Live just like you would at home and enjoy your time in the mountains.
At Norefjellstua we offer 6 or 8 beds apartments. Some of the apartments are decorated with our mascot Nore Rein. Also some of the apartments on the ground floor are allowed with dogs. 
Mountain Lodge
Mountain Lodge is located close to the ski resort with ski in/ski out, and consists of different apartments from 4 to 20 beds.
All of these apartments have owners, so interiors vary from apartment to apartment. And since there are owners, the booking for winter season opens around 01.07. every year. 
Joker Norefjell
In December 2022 a new grocery store opened at Norefjell. This is located at Mountain Lodge and are open 24/7. The store has a large selection of different food products. We hope that in the 2023/2024 season they will also open up food delivery. There will be more information about this when we know more.
Norefjell Ski Resort
Ski slopes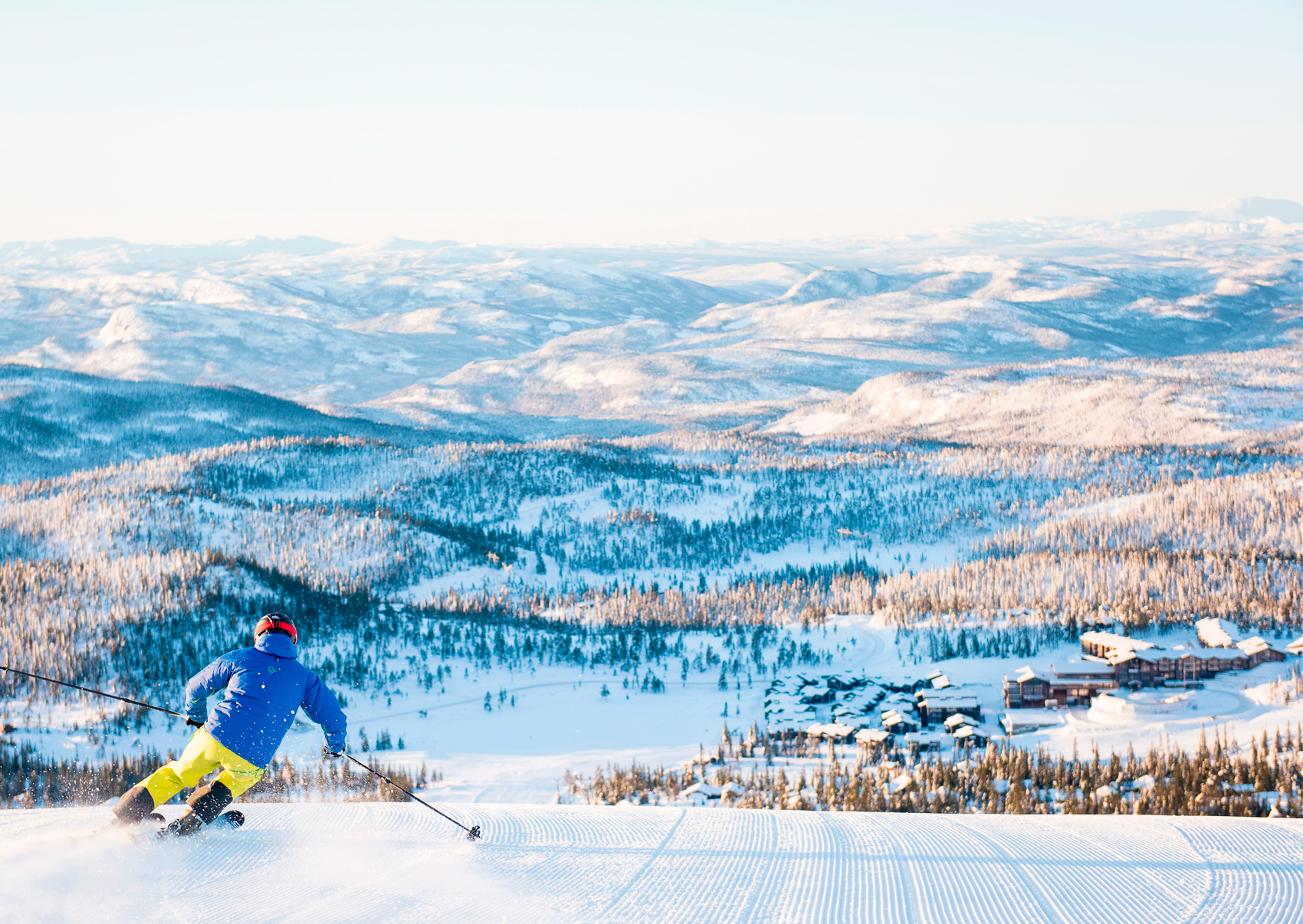 Our main goal at Norefjell is to create great experiences, we want to be an amusement park consisting of snow. We focus on creating arenas where the whole family can develop their ski abilities and of course have a lot of fun. Norefjell have three different slopes for kids with elements such as small jumps, moguls and much more. Perhaps you will meet up with Nore Rein also?
At Norefjell you will also find two different terrain parks, ski cross area and slopes with self timers and one speedometer.
For more information please visit https://www.norefjell.com/en/skislopes
Ski passes 
Ski passes can be booked directly with Ann-Karin and the guest picks them up at check in. Booking must be made no later than 2 weeks prior to arrival. Ski passes can also and preferably be booked online at City Break or with a use of a promo code at norefjell.com 
Ski School 
Skiing is a fun and great activity to learn together. For the kids it is important to have fun while they learn to ski and the ski school is a great opportunity to make new friends. Our ski school consists of highly skilled ski instructors that love to spread the joy of skiing and make you the best possible skier. We offer private lessons and group lessons. For more information please visit https://www.norefjell.com/en/skischool
Ski Rental
Our ski shops are located at Norefjell Ski & Spa and Skistua. We have a great selection of skis and skiing gear for everyone. For more information please visit https://www.norefjell.com/en/shop
Nore Rein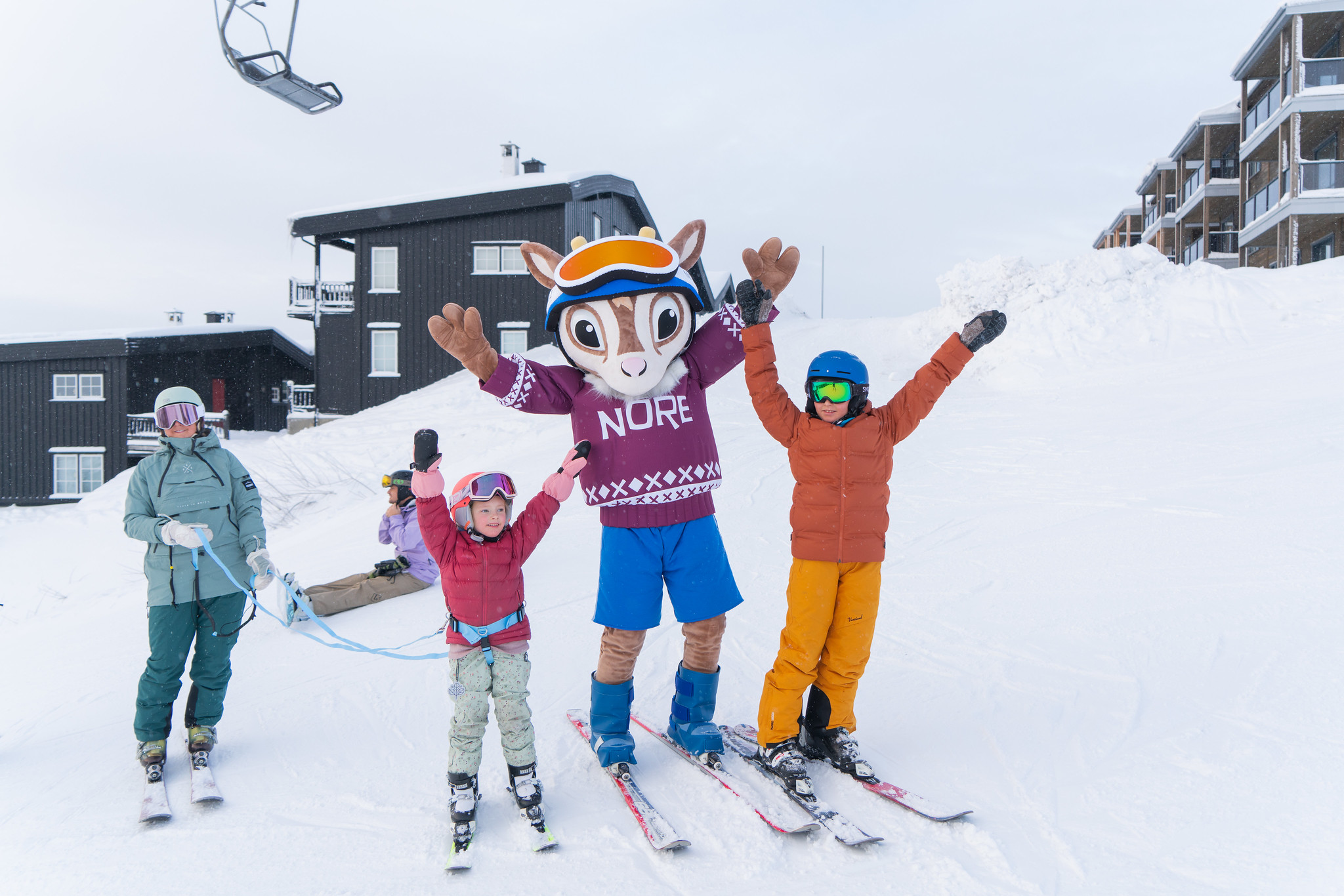 Did you know there are reindeer at Norefjell? One of these reindeer is our mascot Nore Rein. He was born at Ravnås, which is one of the most spectacular places at Norefjell, and he has lived at Norefjell all of his life.
For more information about Nore Rein and fun activities, please visit https://www.norefjell.com/en/norerein
Transportation
There are several alternatives for transportation to and from Norefjell and also to different places at Norefjell. We have dedicated buses that departs from Oslo and Gardemoen (Oslo Airport) and also a brand new offer for transportation in the Norefjell-area.
For more information please visit https://www.norefjell.com/en/transport
Cross Country skiing
Norefjell has about 200 km of well-groomed cross-country trails. Most of the cross-country trails are located on the sunny side of Norefjell and you can get the «easter feeling» during most of the winter.
For opening hours for the Skisenter, please visit https://www.norefjell.com/en/openinghours 

For other activities around Norefjell, please visit: https://www.visitnorefjell.com/no/?gclid=CjwKCAjwjMiiBhA4EiwAZe6jQ_nKPAlGnrutlw8bEMI3flG8A8IXSFm7cNsXNNzyaoEBsHOO73dauRoC5WoQAvD_BwE 
For updating images please visit our flickr account: https://www.flickr.com/photos/norefjell/albums